Simply having a website with some general text on it won't boost your online presence. Nowadays, a company's website needs both mobile and desktop versions that resonate with their viewers to remain relevant. An outdated or faulty website immediately prevents a company from maximizing its earning potential. 
Mobile Websites
Smartphones are responsible for approximately half of all internet traffic, therefore mobile websites are now as important as the desktop version. With mobile usage increasing each year, it's only a matter of time until mobile online activity surpasses desktop traffic. 
Not offering a mobile-friendly web page cuts your number of potential clients by 50%. Google's algorithm also prioritizes mobile-friendly sites in their search engine results. Mobile and desktop capabilities aren't the only feature that can help your search engine rankings. 
Increase SEO
Adding relevant videos to your website is another strategy businesses use to improve their positioning on search engines. Including a transcript for the audio portion of videos also improves findability and adds relevance in search results. Google priorities websites that contain videos in their search results over web pages that don't have video.
A backlink is a hyperlink used to connect one web page to another website. Backlinks are a notable SEO tool because they prove consumers will go out of their way to learn more about a company. The most common backlink method involves attaching a hyperlink from a social post to a company's website or landing page. 
Landing Pages
A landing page is a standalone web page created to promote a specific marketing campaign. Web pages typically have numerous goals and encourage user exploration, while landing pages focus on getting the reader to follow through on a singular call-to-action (CTA).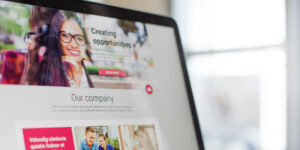 Landing page features that increase conversion rates:
Including pictures or videos (videos on landing pages can

boost conversions by 86%

)

Customer reviews and testimonials

Displaying badges of certifications or images of awards your company has won. 

Offering live-chat capabilities
Chatbots
It's difficult to immediately respond to every online message in a cost-effective manner. Chatbots use artificial intelligence (AI) and natural language processing (NLP) to take the place of customer service representatives. They utilize predetermined replies in situations where there are only a few possible responses. 
Chatbots are most frequently used in customer service situations. The bot typically answers questions relating to products, services, or company policy. If a person's question exceeds the chatbot's ability, the conversation then gets transferred to a human operator. This enables customer service representatives to dedicate their time to answering more involved questions. 
Websites are comparable to cars in that they occasionally require maintenance to continue operating correctly. For more than a decade, Active 8 Marketing has been helping companies optimize them. If you'd like to learn more about the various ways we help businesses reach their goals, sign up for a free, 15-minute introductory call here!